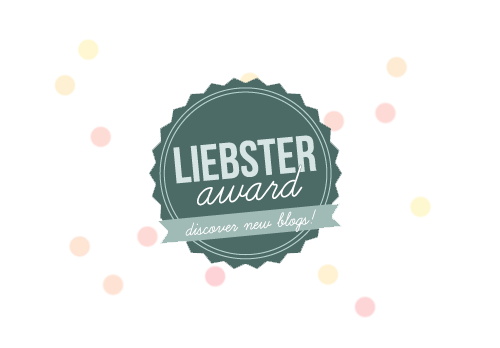 What a way to start off 2013! Thank you so much to the dear, Ghila at Nails Noob, for nominating ECKlipsed by Color for the Liebster Award. Liebster is the German word for "dearest" and originated on the web around 2010 for blogs with under 200 followers. It helps to introduce new blogs to each other and just share the love.
As with any award their are rules and criteria...
You must post 11 random things about yourself.
Then answer the questions that the nominator set for you.
Then create 11 questions for the people you nominate to answer.
Finally, choose up to 11 people and link them in your post and and go to their page and tell them.
Hmm... 11 random things:
1. Love to travel! I have been on over 20 cruises and traveled to places in North America, South America, Europe, and Asia. My most extended stay was a summer abroad in Turkey studying Islamic Art and Architecture.
2. I adore tea. Not just drinking tea, but the whole concept of having a formal afternoon tea ( tea sandwiches, scones, pastries, etc...yum) Every January (coming up soon), I have a large group of friends over to do just that. My favorite brands are Tea Forte, Tazo, Teavana, and who doesn't love Celestial Seasonings Sleepytime!
3. I am an only child. I have always loved it... and no I am not spoiled. :)
4. Jesse and I have been married for over 5 years. I still think he's pretty cool and he thinks I'm okay too...lol ( Seriously though, he's the best and he's my photographer.)
5. I do not leave the house without my hair and makeup done. That is sacrilege. I cut my hair off about a year ago ( think Anne Hathaway on the cover of Glamour this month) and it was liberating. I adore BareMinerals eyeshadow and have about 40 different colors.
6. I am a morning person. Unless I have somewhere to go, staying up all night does not appeal to me...
7. I love to cook. I'm Greek and food is love.
8. I love to buy gifts for people. It is so much fun to pick out something special and it be that thing they wanted. Also, cool gift wrap rocks- presentation is key.
9. My Pandora bracelet ( featured heavily in my pictures) is about 5 years old. My mom and I bought them together and thought it would be this gradual thing to add on to. B.S. We totally went berserk and finished them in less than 12 weeks.
10. Shag ( a.k.a. Josh Agle) is my favorite artist. He does amazing work and there are so many layers of interpretation to it. I have a large serigraph of his in my living room, The Secret Cul-de-Sac.
11. I am a huge supporter of hamsters. They are amazing. I love Mojo and he'll be two on Monday.
Answers to Ghila's 11 questions:
1. PLEASE IDENTIFY YOURSELF: COUNTRY, OCCUPATION AND HOBBIES?
I live in the state of New Hampshire in the United States. I am a Residential Mortgage Lender at a commercial bank. I am an artist who loves music, traveling, cooking, her family and life in general.
2. A FAVORITE MOVIE AND A MOVIE THAT MAKES YOU FEEL BETTER?
I think my favorite movie trifecta is The Usual Suspects, Identity, and Lucky Number Slevin. I also adore the Scream movies. A huge Tarantino fan ( Grindhouse, Pulp Fiction, Kill Bill, basically anything Q has made). I would say the movie that always makes me laugh is Kiss Kiss, Bang Bang.
3. WHICH THING TO DO MAKES YOU FEEL BETTER WHEN YOU ARE DOWN?
I talk to Jesse, listen to good music, hold the live stress ball a.k.a. Mojo...
4. FAVORITE FOOD?
I am a foodie... I will try anything once. I adore Greek food because that is what I way raised with, but if it is cooked well and with love- how is not a favorite?
5. IF YOU COULD RENAME YOURSELF WITH AN ANIMAL/NATURE-RELATED OR SYMBOLIC NAME TO REPRESENT YOU AS A PERSON, WHAT WOULD THAT BE AND WHY?
Mojo thinks I should name myself after him because he is the greatest ever.
6. WEIRDEST DREAM EVER MADE?
Weirdest? Not sure... I love dreaming and tend to remember a lot of them. Some of them actually help me work through things I might have on my mind, and others are as exciting as TV shows...
7. IDEAL FRIEND/LOVER AMONG FICTIONAL CHARACTERS?
I could definitely see raising some hell with bounty hunter from Jersey, Stephanie Plum, from Janet Evanovich's series. I also adore Nolan Ross on Revenge and Damon Salvatore on The Vampire Diaries (why does Elena always choose Stefan??? This Elena doesn't.)
8. MOST HATED THINGS TO DO?
Watch nature documentaries. There are other things, but I am not going to incriminate myself :)
9. IDEAL HOLIDAY DESTINATION AND ACTIVITY?
I would love to go back to Greece to show my husband the "old country". I could also totally kick it in Tahiti for an extended period...
10. HOW DO YOU LIKE/LOVE YOURSELF?
I absolutely love myself. Do I wish sometimes that I had long flowing locks, or that I was more statuesque...sure. You know what though? Those things are not going to happen and that is okay. I enjoy who I am and what I bring to the table. If you are your own best friend, everything is a piece cake from there...
11. WHAT WEAKNESS WOULD YOU LIKE TO SHARE/SOLVE ALONG WITH OTHER WOMEN AND WHAT WOULD HELP?
I love when people are themselves. It's cool to be a little bit geeky, or goofy, or corny... I think it really comes out when we all talk about polish and it's super fun.
My questions for my nominees:
1. What inspired you to start blogging and also your blog name?
2. What has been your greatest accomplishment so far?
3. What is your favorite creative outlet? Art? Music? Dance? etc.?
4. If your life was a book what would be the title?
5. Describe your favorite meal.
6. What would be your ultimate polish color and what would it be called?
7. If you had pick between the two- chocolate or cheese?
8. Favorite travel destination that you have been to and one that you would love to go to.
9. What nail trend do you see happening in 2013?
10. Do you speak any foreign languages?
11. Favorite nail polish brand and favorite shade?
My nominees:
PolishNV
Cazzy at Special Girl Nails
Gellified at Gel-Luv
Meghan at WillPaintNailsforFood
These are great new blogs, so go on and show them some love!
Big hugs to Ghila once again for the nomination!